Once you have a dream of becoming a parent, nothing should get in the way of turning that dream into a reality. The stumbling block for most LGBT couples who decide to embark on a journey of parenthood is the negative laws against surrogacy for same-sex couples across certain countries. We're here to help and are going to shed some light on the various options you have across World Center of Baby clinic branches when entering the world of gay surrogacy.
In case you're interested in the topic of LGBT surrogacy and come across questions that aren't answered below, don't hesitate to fill out a short form and our manager will contact you soon.
In this blog post you'll get to know:
How does Tabasko state law in 2016 affect Mexican legal attitude toward LGBT surrogacy?

Which American states are surrogacy-friendly to same-sex couples?

What is the hidden ace in the hole of the Colombian legal system in terms of gay surrogacy full acceptance?
Surrogacy for Gay Couples in Mexico
Mexico still holds the position as one of the world's best destinations to undertake surrogacy services. From its favorable pricing structure and renowned success rates, this South American nation has a ton of aces in the hole.
When looking at the legal side of the surrogacy process, it's mostly pretty simplified and easy to arrange. Since Mexico consists of states similar to the USA, each of these states has its own civil code, so although states such as Tabasco may have prohibited surrogacy practices back in January 2016, this doesn't necessarily mean that the constraint is applied to other states across the country.
What's more, the newest innovation in the field of legislation makes it possible to obtain a court order ensuring the surrogacy agreement is legally protected.
Another helpful way for LGBT couples to begin their journey toward parenthood in Mexico is by means of cross-border surrogacy programs. Generally, such methods will assume a partnership between clinics situated in different countries to smooth out any kinks in the process. For instance, main medical procedures take place in Mexico, while the child's delivery is expected in the USA (Mexico's border country). As an outcome, gay intended parents will not only save money but also feel an added layer of safety due to the U.S. legal system which is LGBT friendly towards surrogacy.
Gay Surrogacy in the USA
The United States is considered to be a popular surrogacy destination for gay intended parents, but only those who can afford far higher costs for surrogacy services. Expensive facilities are justified by legalized surrogacy processes for same-sex couples, including contracts between intended parents and surrogate mothers that are upheld by law. Same-sex couples will also receive a birth certificate with their names on it as the intended parents.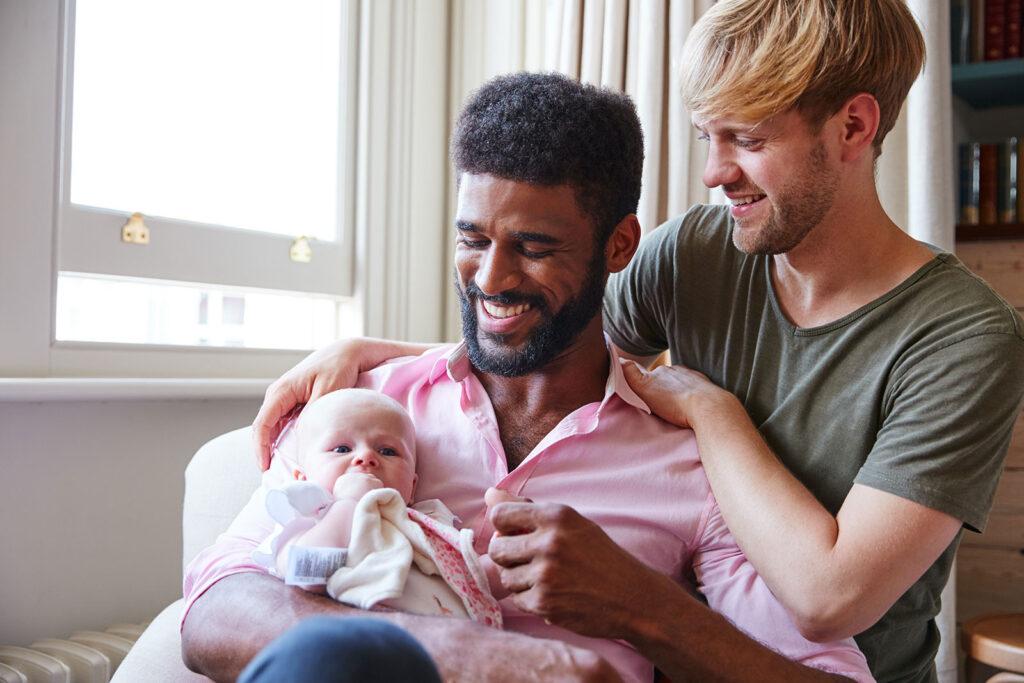 What's more, medical institutions for fertility practices are obliged by law to report the results of their reproductive technologies (think IVF and embryo transfer processes), which has greatly increased the success rate among American clinics by 25%. After gathering these reports, the U.S. Center for Disease Control announces which clinics showed the best accomplishments, providing intended parents with all the information they need to select the most reliable surrogacy agency and program for their journey.
It is however important to note that not all 50 states are surrogacy-friendly to LGBT representatives. When searching for an ideal destination to embark on your journey toward parenthood, we recommend you pay attention to the following states:
California

New Jersey

Illinois

Ohio

Connecticut

Delaware
These destinations are very favorable in terms of surrogacy agreements and pre-birth orders supported by law.
Surrogacy for Gay Intended Parents in Colombia
Colombia warmly welcomes the surrogacy and parenthood process for same-sex couples, a standpoint of which is supported by the Colombian constitution. Because of the innovative legal steps the country has taken towards the new-age process, LGBT rights are highly protected and prohibited from discrimination. Furthermore, same-sex marriage was legalized in Colombia back in 2016, a crucial point of which is that LGBT couples became equal by law in the creation of a family alongside heterosexual partners.
Colombia is extremely progressive regarding gay surrogacy, with the Constitutional Court establishing special guidelines for correct surrogacy execution for same-sex intended parents.
Adding to this a relatively lower price for surrogacy services, Colombia is displayed as a favorable destination for gay intended parents.
In conclusion
Living in the 21st century, LGBT couples are offered many more legalized and safer opportunities for conceiving a child than in the past. World Center of Baby clinic representatives throughout Mexico, Colombia, and the USA are consistently focused on doing their best to assist gay intended parents on their way toward a happy family.
Don't hesitate to complete a brief form and get in touch with our experts so you can receive deeper insight into the most appropriate surrogacy destination for your needs. The World Center of Baby team is here by your side, standing on guard to ensure your dream journey toward desirable parenthood is stellar, safe, and successful.